Welcome to the Dragon Oath Wikia!

Dragon Oath Wikia is a community portal where Dragon Oath players come together to organize and discuss content on the Wikia and its forums.

Dragon Oath, also known as Tian Long Ba Bu (abbreviation: TLBB) in China, is a free-to-play MMORPG developed and published by Changyou and Sohu and launched in May 2007. The game's story is based on the novel Demi-Gods and Semi-Devils by Louis Cha. Since its initial launch in China, ChangYou.com has taken steps to sell Dragon Oath on an international stage. The game now has servers in Europe, Malaysia, Vietnam and the United States. Please feel free to help all those who play Dragon Oath by helping build this wiki!
---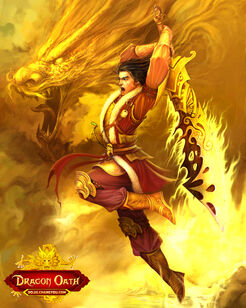 Ad blocker interference detected!
Wikia is a free-to-use site that makes money from advertising. We have a modified experience for viewers using ad blockers

Wikia is not accessible if you've made further modifications. Remove the custom ad blocker rule(s) and the page will load as expected.